Giovanni Battista Piranesi
Piranesi loved to experiment and over the course of his work, he developed a range of innovative etching techniques, providing exquisite detail in his work. And although his prints are black and white, his clever use of light and texture brings great depth to his pictures.
This can be seen clearly in his series Le Vedute di Roma, a collection of views of Roman landmarks and vistas intended as souvenirs for tourists. The collection is noted for its dramatic compositions and strong contrasts of light and shade.
Piranesi's work shaped the European vision of present-day Rome and many of the Grand Tourists who visited Rome after seeing his prints were said to have been disappointed that the reality of the city didn't live up to Piranesi's artwork.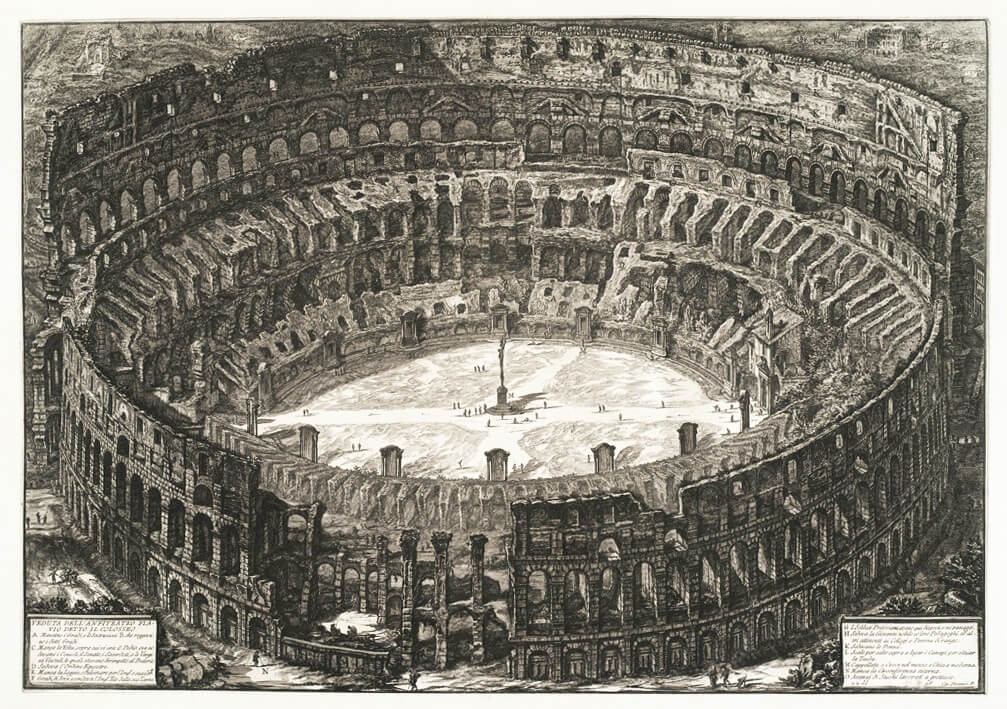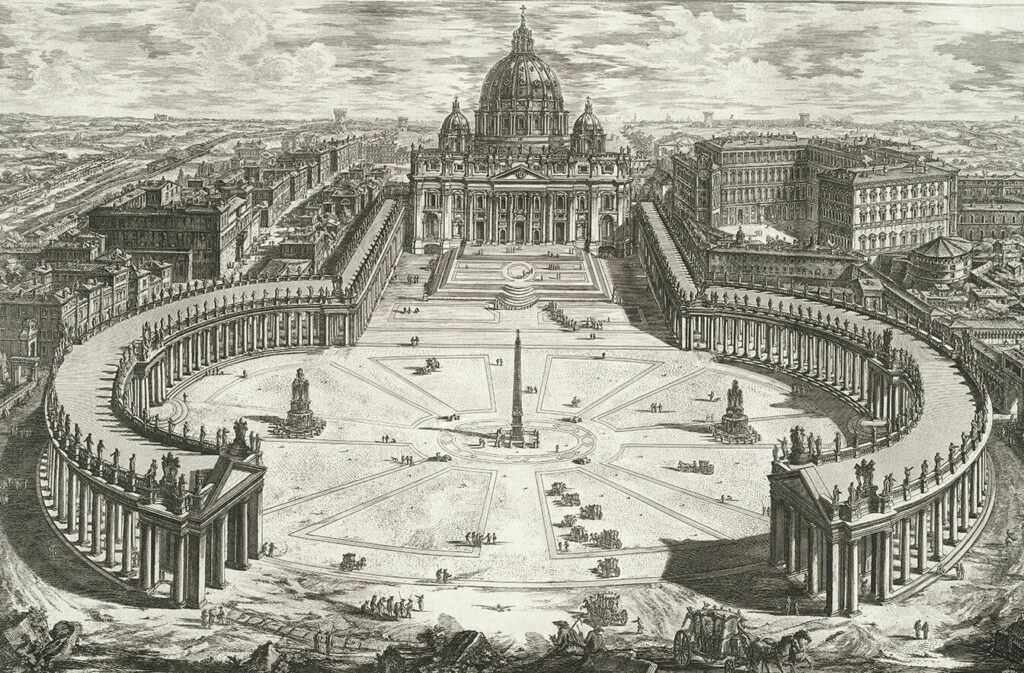 In this collection, you will discover Piranesi's interpretations of Rome's best-loved views and landmarks including the Pantheon, the Colosseum, and the Pyramid of Cestius (see very bottom of this page for a complete overview).
A complete set includes: 
1 title page
2 content pages
138 prints, incl. one from his son Francesco and a map of the city
2 handcrafted Solander Boxes embossed with gold lettering. 
A certificate of authenticity
Publication: Le Vedute di Roma, a journay through the eternal city
Author: Giovanni Battista Piranesi (1720-1778)
Print artist: Giovanni Battista Piranesi (1720-1778)
Published: 1750-1778
A complete set includes: 
1 title page
2 content page with all titles of the prints
138 prints after the engraved originals
Certificate of authenticity
2 Solander boxes
Casing: The complete set will be cased in two elegant handcrafted Solander Boxes covered in special linen embossed with silver lettering.
You may choose your own color of the boxes and your own lettering.
Size of the prints: 31.9 x 21.7 inches (81 x 55 cm).
Durability: To ensure the durability, the giclée's are printed on acid-free white etching paper (270 g/m2) with archival ink.
Quality: These prints were  photographed using the latest technology and reproduced at the original plate size. Printed in the highest possible resolution, these prints are virtually indistinguishable from the originals when glazed and framed.
Limited Edition: The edition will be limited to 50 sets, numbered 1/50 to 50/50, signed and stamped with a blind embossing.
Shipping and delivery: Read more about shipping and delivery in our FAQ .
From his detailed etchings of Rome to the dark imaginings of his fictitious prisons; Piranesi is one of Italy's most extraordinary artists.
Born in Mogliano Veneto near Treviso (then part of the Republic of Venice), Piranesi was the son of a Venetian stonemason. But it was his uncle, Matteo Lucchesi – a leading architect, who taught Piranesi to draw, and to design architectural structures.
Rome
In 1740, the young Piranesi travelled to Rome where he lived and worked for almost all his life. His early career began working as a draughtsman for the Venetian ambassador Marco Foscarini.
While living in the Palazzo Venezia (the papal palace), Piranesi was tutored by the Italian engraver Giuseppe Vasi who introduced him to the art of etching and engraving of Rome and its monuments.
Inspired by his studies, Piranesi began creating the vedute (views) of Rome, for which he would become famous.
Engraver and print publisher
Piranesi briefly returned to Venice in 1744, planning to launch a career as an architect. When this plan failed, he returned to Rome in 1747, opening a workshop in Via del Corso where he established himself as an engraver and print publisher.
It was at this time that Rome had become one of the main destinations for visitors on the Grand Tour of Europe. The tourists wanted souvenirs and Piranesi was happy to oblige, offering prints of Renaissance Rome and its ruins.
Atmospheric depictions of the Eternal City
Piranesi's popularity grew quickly. And while he found fame from his detailed and atmospheric depictions of the Eternal City; he is equally well-known for his haunting imaginings of prison interiors, invented from his own mind.
Piranesi died in Rome in 1778 after a long illness. He was buried in the Santa Maria del Priorato, the church he had helped restore, in a tomb designed by the Italian sculptor Giuseppe Angelini.
In 1803, Joseph Bonaparte, Napoleon's brother and King of Naples (from 1806-1808) and later the King of Spain (from 1808-1813), donated Piranesi's original etchings to the Ghent library.
Piranesi devoted a large part of his life to his etchings of Rome. This proved seminal through its influence not only on other artists, but also on the entire European and colonial society.
Piranesi's unmatched technical skill allowed him to produce larger etchings than was normal at the time and to render his subjects with unsurpassed accuracy.
His views of antiquities also caught the mood of his own age, reflecting the neo-classical interest in the culture of classical Greece and Rome, and at the same time romanticising the antique in a way that appealed to the spirit of the day (Rousseau's "bon sauvage" appeared in 1755).
In this sense Piranesi (1720-1778) and his Vedute di Roma played a central role in the transition from neoclassicism to romanticism. They influenced Goethe, Byron and Keats, a long line of British architects from Robert Adams to John Ruskin, and many others.
All these people visited Rome after seeing Piranesi's prints. Around 1774, as Piranesi completed the series, he produced a large reference map to accompany the collection (Pianta di Roma e del Campo Marzo). It shows the location of the antiquities in relation to modern Rome and the Campus Martius and its surroundings to the north of the city, with a smaller inset map of the ancient city.
In 1803, Joseph Bonaparte, Napoleon's brother and King of Naples (1806-1808) and Spain (1808 – 1813), donated the original etchings of Piranesi to the Ghent Library.
We know how special it is to own a piece from your favorite artist; a piece that will be a real talking point in your home.
That is why each edition is limited to just 50 prints. These are numbered from 1/50 to 50/50 and are signed and stamped with a blind embossing.
So when you choose prints from Heritage Prints, you know your artwork has been printed with great care and in limited numbers, making it a print only a select few will own
When investing in a complete set, our Solander box is the perfect place to store your collection.
The box is covered with library buckram cloth and is fitted with a card holder to the spine with attaché fasteners.
This elegant, high-quality box is designed especially for keeping your prints safe and in perfect condition – yet you can still easily look at them whenever you wish.
When you invest in our prints or collections, you will receive a certificate of authenticity.
This provides a lasting record of your artwork and gives you valuable certification if you ever wish to sell or bestow your collection in the future.
Piranesi - Le Vedute di Roma - View all prints below
Heritage Prints has a master copy of many images. But we do not have every certified facsimile giclee print in stock. 
If you cannot find a specific work on our website, please contact us directly and we will start the rigorous process of printing your individual facsimile.
Title and content pages Piranesi - Le Vedute di Roma